Doug Schroeder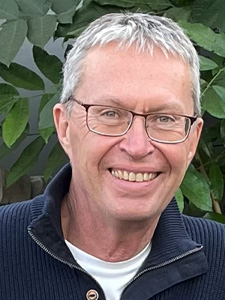 Doug's life was dramatically awakened to God beginning in 2005 through SoulStream's A Course in the Art of Spiritual Direction.
"For the past 12 years I have been deeply honoured to bear witness to the transforming work of God in my life and the lives of others through offering direction. Receiving spiritual direction has opened me to greater freedom.
I have also completed training in spiritual direction supervision with Lucy Abbott Tucker. I am grateful for the gift of spiritual direction."
• M.Div. Providence Theological Seminary, 1979
• Professor Bible and Theology, Foothills Christian College, 1979-1986
• Sales and sales management, Parmalat, 1986-2002
• Lead pastor Crossroads Community Church, Calgary, 2003 – 2014
• Certified Enneagram Trainer – Enneagram Spectrum, 2013
• Director of SoulStream Initiatives, 2015 – 2020
• Supervision Training with Lucy Abbott Tucker, 2019
Doug loves co-facilitating retreats, hiking in the Rockies, golfing, pottery, reading, spending time with his wife Dorial, his children and grandchildren.