Andrea Kastner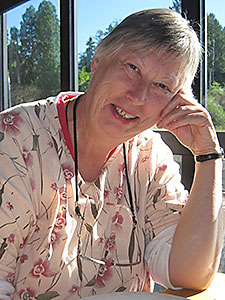 For me, spiritual direction's gift is the support it offers in being attentive to God's loving action within the daily realities of life – the ordinary, the dyings, the waiting, and the new life emerging. At its core is companionship with Jesus – in his incarnation, his way of being with people, his suffering, death, and resurrected life. I am sensitive to how our experiences in our families, the larger culture, and the church all have a profound effect on our image of ourselves and of God. My desire is to become more and more attuned with God's deep desire for our freedom to love as God loves.
Significant influences on my own journey and my approach to spiritual direction include engagement in feminist, peace and economic justice movements, liberation theology, the experience of God alive in prairie, rivers and ocean, and my time as a novice in a contemplative Anglican religious community.
My spiritual direction training was through SoulStream (2005) and I'm one of the founding partners of the SoulStream Community. I have found real joy in the collaborative adult learning approach of the Art of Spiritual Direction facilitator and supervisor team over the last 13 years. I also love living in a quiet place surrounded by pastures and huge fir trees, getting together with my daughters and their families, cooking, and reading Japanese mysteries in translation.